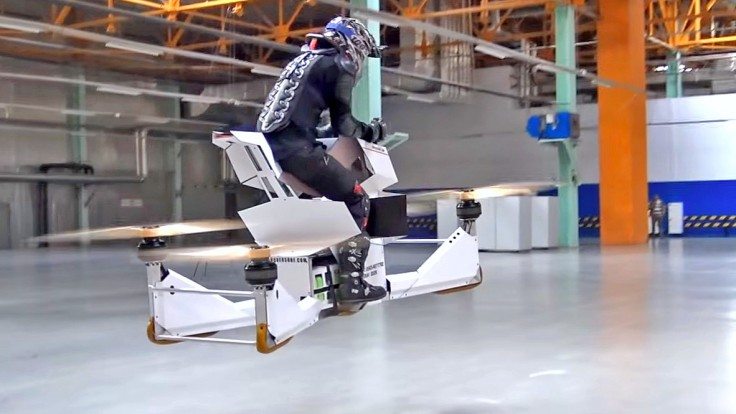 Hoversurf is a Russian company that builds drones showed off its latest prototype called Hoverbike: the Scorpion-3, a single-seat, electric-powered Hoverbike.
The manufacturers say they wanted to combine a motorcycle with quadcopter drone technology to create "an extreme sports instrument." The electric-borne aircraft is intended for both "amateur and professional navigators," Hoversurf says. Though don't expect a motorcycle's license or even a pilot's license to authorize you to ride one of these things. The only thing that would, in my opinion, is a willingness to have your legs amputated in the name of extreme sports.
The vehicle, called the Scorpion and designed by Russian tech company Hoversurf, relies on four propellers to stay airborne, with the rider crouched precariously close to the exposed blades.
Capable of 40 mph and a travel time of 25 minutes, the single-seat craft, which can carry 600 lbs, can also operate autonomously.
The hoverbike uses custom-built software to limit its range and velocity to assure a safe ride, the company says. Hoversurf says the Scorpion's design was "inspired by heavy-duty sport-utility motorbike frames" and "basically surfs through the air by changing altitude and direction."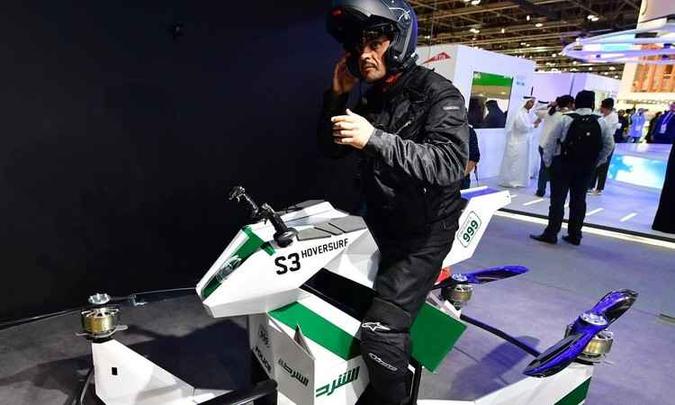 However, Dubai Police which is already using Lamborghini patrol cars, electric motorbike and self-driving robots has decided to take to the skies in what can only be described as a flying motorbike.
After appearing at tech shows earlier this year, Dubai Police has decided to add one to its list of cutting-edge gadgets, all part of the force's "smart city" plans.
See video below:

Comments
comments